GUDGEON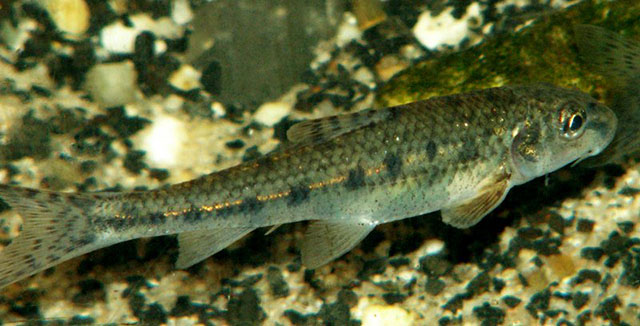 Where to look?
This fish is common in most non-trout waters and in the quieter foothills of the trout region.. Finds slightly silted places, separated by shallow sections with a hard one, gravel and sand bottom. On warm and sunny days it creates large shoals in shallow places with weak water current or in small depressions of the bottom. It looks for hiding places only under the banks, and when he does not find them there, stays constantly in the watercourse itself.
When to fish?
From spring to autumn, just like the barbell.
Equipment.
A rod with a delicate tip, line 0.10-0.15 mm (without a leader), hooks 14 — 16, sensitive and well-balanced float.
Sausage lures.
Pieces of earthworms, "worms", cake, roll.
Methods of catching sausage.
On the run, the depth must be set so necessarily, so that the lure will drag along the bottom. It can be easily caught with a lanyard or a net mounted on a rim with a long handle (with a filter).
Other comments.
The sausage is an effective and vital bait for all predatory fish species. During transport it is very sensitive to oxygen deficiency in water. When it swims as an armed bait, he likes to hide in bottom-up obstacles, therefore you should set the depth on the rod like this, so that it is slightly above the bottom. During spawning, it is easy to catch with a fishing rod, takes the bait very confidently. It has tasty meat, which in Czechoslovakia was used to prepare a special dish called "grundle".
WHITE FIN SAUSAGE
Occurs sporadically in the Danube basin and its Moravian and Slovak tributaries. It has no economic importance. In Poland, it is fully protected.
Long mustache
It occurs in the Danube near Bratislava and in some tributaries of this river. It is seen very rarely. It belongs to the protected fish, also in Poland.
KESSLER'S SAUSAGE
It occurs in the region of some tributaries of the Danube; occasionally found in the Danube itself, in the Wag basin, Hron and Tisa. It is fully protected. Not found in Poland.