SALMON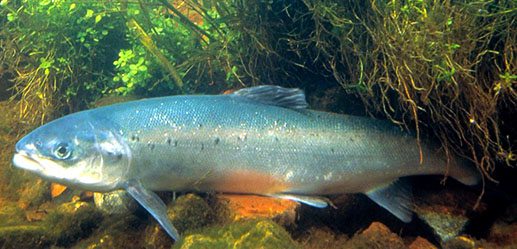 It is one of the most valuable economic and sports species. He spends most of his life at sea; to fresh inland waters only pulls for spawning. In our waters, this fish was once common. The salmon were drawn en masse to the Elbe, Ohrzy, obu Orlic, Vltava River, Neżarki, Halsza and Otawa, the most important spawning grounds were in the upper Otava, near the village of Suszyce. Only a year 1926 caught 369 salmon by weight 2445 kg. Pollution of the Elbe waters, high water structures without fish passes prevented the salmon strings, and thus they refrained from entering the lower parts of the Elbe. In recent years, salmon have not been seen at all.
Most professional literature no longer includes salmon in the list of Czechoslovakian ichthyofauna. Even though this fish is not there, however, an exception should be made for it because of its importance and prowess; she deserved it, to describe it briefly. You should do it for that as well, so that sea trout and sturgeon would not be lost in a similar way; let this be a warning to us. This should also be remembered for this reason, that salmon can still be caught there, where they are still quite numerous, although they are becoming rarer worldwide. Relatively large populations are found in Scandinavia (Sweden, Norway, Finland), in Ireland, Iceland, Great Britain, Karelian Republic of the USSR. The salmon fishing season in different countries depends on the geographical location of the area, location above sea level, the type of water and its surface. It may start as early as February, elsewhere in March or April, in June at the latest, and lasts until the end of September.
Also in Poland, salmon is already disappearing. It can still be found sporadically in the Drava River, and sometimes in the rivers of the Pomeranian Lake District. He was fully protected.