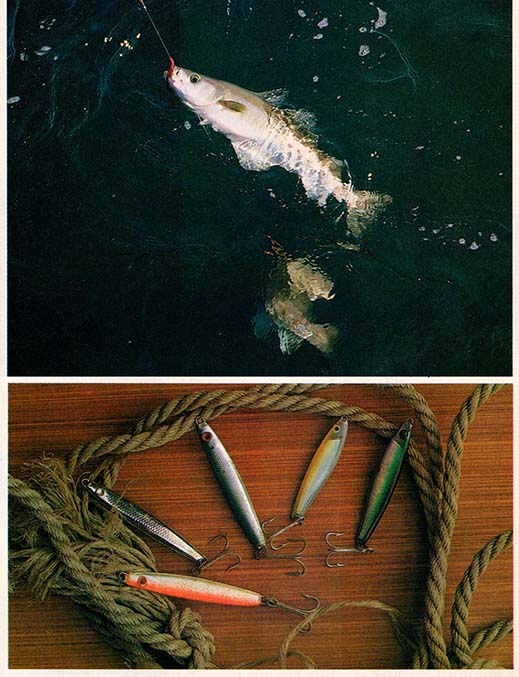 They hunt in packs, and going crazy while hauling on a fishing rod, make the angler's heart beat faster. Saithe, because we are talking about them, are typical predators of the open waters of the northern seas.
Oops, they are hunting again! Actually. The still calm water in the fjord suddenly boiled by the shore. The herd of foraging saithes is clearly visible. You can hear it too. Hundreds of darkly colored predators quickly fill their stomachs with loose fish caught under the surface. Now every second counts. My neighbor runs to his caravan. Me to the tent. – Lekki spinning! – he still screams at me. I know, I know – he doesn't have to tell me that.
In summer, young saitches enter fjords very often. A light spinning rod is the best for catching them. And just such a spinning, ready for immediate use, standing in the vestibule of my tent. A minute later, baby, 12-gram pilker "Stingsilda" descends down between hunting saithe. I close the bail. The line gets taut and bang! It is wonderful to feel such an energetic tug on the rod. I'm starting. The rod bends into a headband, springs yes, as if I were hauling at least a three-kilogram pike. And yet this saithe doesn't even have a kilogram. Lovely lobby. In summer, saitches are real warriors. Considering their small size, you can say, that they literally go crazy with the rod when they hook.
Sophisticated from the rocks
If someone decides to hunt light saithe, sophisticated spinning from the shore, I guarantee, that he will experience unforgettable emotions. When fishing with a weight of bait 10-20 g and a fishing line with a diameter 0,20 mm, Defeating even a 40 cm fish is not that easy. When spinning from rocks or the edge of a fjord, possibly also from a small boat near the coast, the best lures for saithe are small, wysmukłe pilkery.
Before embarking on a trip to Scandinavia, we don't have to worry about the right lures. You can buy pilkers in Norway, what your heart desires, literally everywhere. They are recommended, for example 12-, 18- i 28-gramowe pilkery "Stingsilda", "Jensen Pirk" (10, 16 i 25 g) and "Tobis Congen" offered in similar sizes. The best pilkers are green-silver and blue-silver.
Scotland does not skimp on saithe only
However, if someone is not going to Norway, while planning a trip to Ireland or to one of the Scottish islands, he should take the necessary supply of pilkers with him. It is true that saithe can be caught from the bank with other artificial lures, however, the pilker can be thrown the farthest. Because saitches sometimes feed a little further from the shore. Slender and perfectly imitating a small fish, the pilker quickly sinks to the bottom and does not go below the surface while being led. It is very important, when we throw from rocks into deep water, and the fish are not hunting below the surface. Also when fishing in the rocky straits of the Norwegian fjords, a fast sinking and narrow lure is simply essential. The water current is so strong there, that any other artificial bait is immediately brought to the surface. In these straits, (depending on this, is there a drain, or the tide) the water flows back and forth, once the other way. In the rocky narrowing of the Norwegian fjords, they always take saithe, and sometimes they are even very large individuals. Already a four-year-old fish is approx. 60 cm long and weighs over 2 kg. Catching such saithe from the shore is a pleasure, which cannot be described. You just have to try it for yourself.
Fish in the water
Spinning in the rocky straits of the Norwegian fjords is not easy at all. Sometimes the water current is so strong, that even small pilkers are brought to the surface immediately. A proven lure is the 28-game "Stingsilda" pilker. We make a long throw with it and let it fall as deep as possible in the water. Due to its compact shape and considerable weight, the pilker quickly descends into the lower layers of water. And there, several or several meters above the bottom, there are always saithe. The cod usually stay close to the bottom. Now we begin to slowly lead the pilker in jumps. During breaks in reeling the line, the bait drops slightly downwards. By turning around its axis, pilker is deceptively similar to a sick fish. If we lead the bait at the right depth, taking saithe is only a matter of time. You can believe me, that there is nothing more exciting than a two-, a three-kilogram saithe from the rapid current of sea water. These fish fight fiercely until the very end. After catching a few saitches, hauling a similar sized asp will not impress anyone much.
An effective lure
Sometimes it pays to spin with a lure (large steramer or small gummimakk) tied to the fishing line approx 40 cm above the pilker. The gummimakk, popular in Norway, is actually a long plastic tube armed with a long-shanked hook.. This lure triggers the reflex of food competition in saithe, because these fish are almost always in motion, and they compete fiercely for food during their foraging periods. By using a decoy, however, we must take this into account, that we won't be able to throw that far anymore, like the pilker himself.
When fishing from the bank, we will most often deal with young fish (it is rare to catch a saithe weighing more than 2 kg). Adult saithe is only found on the high seas. These are extremely beautiful, dark colored fish sometimes grow to over one meter in length (such a fish has approx 30 years).
The voracious and fast saithe always follows the great shoals of herring and sprats. These predators tend to stay at greater depths, they also correspond to a slightly higher salinity of the water. They hunt at any depth, depending on this, where there is a school of fish that feed them.