BURBOT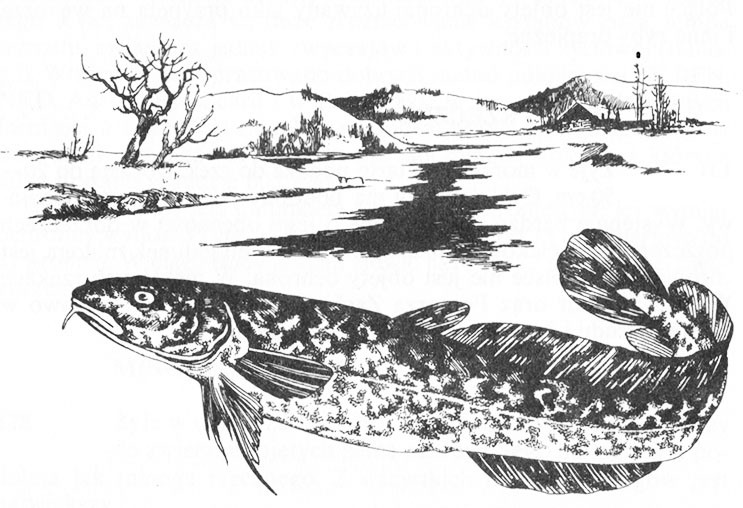 Where?
It is spread throughout the country, but only in selected water sites. Found mainly in the middle and lower stretches of trout waters, which he chooses above all. In non-trout waters, it looks for places with clean and well-oxygenated water, and in summer - with cooler water. It can usually be found under washed banks and terraces, under the weirs, in coastal positions with pebbles, meaning everywhere there, where the bottom is hard - sandy, gravel or rocky. He hates even short-term overheating of water. It usually looks for food near the shore, but not too far from their hiding places. It also lives in dam reservoirs, where it should be found on the border of backwater, further from the shore, mainly in the old trough.
In Poland, it is also a very common fish, both in the rivers, as well as in dam reservoirs and lakes. In the latter, it forms the most numerous populations in whitefish reservoirs. Because he is nocturnal, and during the day he is hidden, protects against both the fishing rod, and the network.
When?
In summer, in the evening and late in the evening, in cloudy weather, when the waters rise, during the day only in very cloudy water. In winter, around the clock, that is also during the day with heavily overcast skies; slight snowfall is favorable for take-ups. The burbot catch season begins with the arrival of the first frost, ends at the end of January or the beginning of February; the fish takes well until April.
Equipment.
Equipment for an eel. The rod is longer and stronger, line 0.30-0.40 mm, hook 1 —3/0, load greater.
Fishing methods.
For an appetizer with a float and a bait placed on the bottom. We cast them to those closer, presumed hiding places, We hold the fishing rod in our hands and we often throw it to search the fishery. The point is, to put the bait as close as possible to the burbot's mouth if possible. In dam reservoirs and lakes, it is most often caught with a starter without a float; one should also throw the rod here often, it happens, that taking a burbot is very gentle and you won't notice it, because when the bait is swallowed, it does not flow away, but remains in place. Thus we are wasting our time in vain, waiting for clear signs of a bite.
Lures.
Live and dead fish (preferably a bullhead) or pieces of them, earthworms, poultry intestines.
Other comments.
This nocturnal predator usually weighs 0.5— 1 kg. It is actually caught accidentally (by-catch).- You can get into them
specialize him in fishing, but only there, where it is more numerous. Burbot liver (necessarily after heat treatment!) is a treat. After jamming, the burbot tries to escape to its hideout, therefore it cannot be towed for a long time, but it should be quickly torn from the bottom and removed from the water as soon as possible. Catching burbot in cold weather is neither physically nor, nor technically light and easy, and that's why, that both grommets, and the line often freeze. To counteract it, we should rub them with glycerin. When we are planning evening or night fishing, we need a good flashlight.
In Poland, burbot is caught most often in lakes and dam reservoirs from the ice sheet, in which holes are forged with a pike (crowbar) or he is drilling with an ice drill. The marmalade method is used (with a live bait placed on it - e.g.. bloodworm) or a tin fish. Some anglers use small dead fish as bait during this time, which lower to the bottom on a short winter fishing rod without a float. You should keep the fishing rod in your hand at all times, often pulling the lure, to swing near the bottom. In Poland, burbot is not a protected fish.