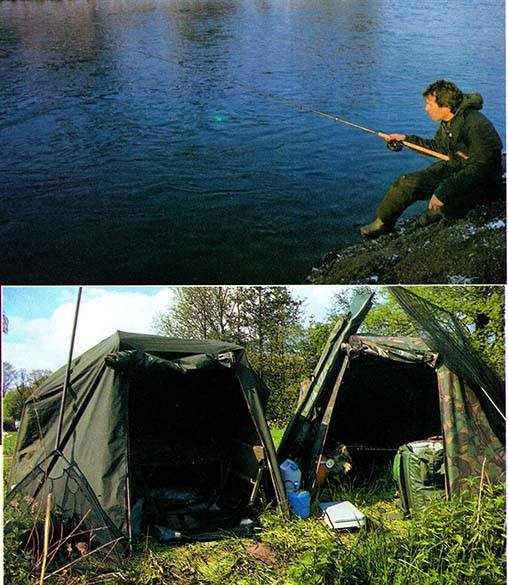 If someone does not want to get tired during a fishing trip, should limit his inventory to the necessary minimum. John introduces the benefits of fishing with minimal equipment.
Anglers sometimes look like pack mules. They bend under the weight of the equipment, which they carry with them to the water. At the same time, they attract widespread attention, and sometimes even awe: "This one is well equipped – some colleagues think to themselves – he must also be an excellent angler and he catches much more fish than any other angler with a small backpack ". I consider, that is just the opposite. Taking "tons" of equipment to the water significantly reduces the angler's mobility. Such a colleague is tied to one place and he can only hope, that the fish will come to him on their own. Most of the equipment and accessories are usually completely useless on the shore, because apart from regulatory reasons, it is difficult to use more than two fishing rods and two reels in one day of fishing.
Fish do not feel respect
The angler with little equipment is more active on the water. It can move towards the observed fish or penetrate places at any time, in which he expects their presence. Fishing in one day in several baited fisheries does not present any difficulties for such a colleague. It is extremely rare for him to lose something from his equipment. So why so many of us think, that a trip to the water makes no sense, if we don't take at least half of the tackle shop with us? I think, that the angler wants to increase the probability of success in this way, build up internally. It's kind of like a playboy, which impresses women with its new Porsche. However, does great fishing equipment make such an impression on fish?, that they take the bait out of respect? Certainly not. In our hobby, success is determined by something completely different. The angler needs to know not only the habits of the fish, which she is setting herself on, but also to know, where to fish and what bait to use. Unfortunately, practical knowledge of the fishery, after all, it is decisive for success, only a few anglers can boast, who have not yet got the "disease" of taking with them usually completely unnecessary equipment.
Willy the cyclist
Come on, that I am going to give you an example of a successful angler. It is my friend Willy. As a pensioner, he has plenty of free time to fish and is by the water practically every day. Willy rides her bicycle fishing. All his luggage is a case with sticks and a tiny backpack. By bike, he can easily reach any attractive spot along his favorite river, it often penetrates episodes as well, which cannot be reached by car, and they are too distant, to go there on foot. In such places my friend usually catches alone and does not have to be afraid of competition from other anglers. Every time I meet Willie by the water, it turns out, that he has about seven baited simultaneously, and even eight places, mostly very close to the shore. During the day, he cycles all these "spots" and checks them, whether the fish have entered the groundbait. Willie's tactics are basically foolproof – large carps land in its landing net almost every day, bream and roach.
Quiet tires
There is nothing strange about it. This is because when the angler starts fishing by "building" on the edge of the mountain with the equipment, the fish immediately become suspicious and swim away from the place, before the bait is in the water. If, however, the angler appears silently over the water, even on a bicycle, With a few movements of the hand, he unfolds the telescopic rod, it silently casts its bait and fishes hidden, is how the fish are supposed to air the trick? Most of the time, bites in one place only last for a moment, and then there is a pause. Angler, which has little equipment, he can collect all his "belongings" in an instant and change the fishery in a few minutes. However, if packing would take half an hour, and moving and unpacking another forty minutes, I doubt it very much, will anyone want to move. Moving to a new location would only be an unnecessary waste of time. Before the lures are in the water, the fish will probably have time to leave the new fishery elsewhere.
What is essential?
I got used to taking only so much equipment with me to the water, how much will I really need. My equipment is a universal rod, a reel with one or two spare spools, a few floats, weights and hooks and not too much groundbait in the bucket. Thanks to this, I am very mobile by the water, because packing all the little things into a small backpack is a matter of one moment. Someday you should consider the usefulness of each item in your inventory: do you really need a chest to sit? Many anglers buy chests the size of a large chair, and then fills them with baits and other useful (?) trifles, how much will fit. I only take the "armchair equivalent" with me, small, waterproof inflatable pillow, which, when folded, fits in a jacket pocket. Only then, when I plan to fish in one place for several hours in advance, and this happens rather rarely, I am taking with me a folding hunting chair with a shoulder strap.