RAINBOW TROUT
Where?
The environmental requirements of rainbow trout are very similar to those of brown trout. It occurs in the lower stretches of trout waters, in these places of grayling, which do not freeze in winter, and wherein the water temperature does not fall below 2-3 ° C. It finds good conditions in many dam reservoirs. Although he does not need hiding places, he likes to stay in places with varied bottoms and shores. The range of its occurrence is limited. It has been stated many times, that after stocking the water with rainbow fish, these fish quickly migrate from it.
Other comments.
Fishing methods, baits and gear are the same, for a brown trout. It sticks to the fly in autumn, even after stronger cooling. It can reach great weight and size, therefore in these waters, in which there are such specimens, we use heavier and stronger equipment. It is a great predator, voracious and militant. It was brought from North America at the end of the last century. It only settled in some of the watercourses. It is commonly produced in trout-type pond facilities, and in colder carp ponds as an additional fish.
In Poland, attempts were made to stock some lakes with rainbow trout, however, these treatments did not bring the expected results, for the fish disappeared quickly. In our country, it is rarely found in natural waters; its protective dimension is 30 cm, and the grace period is from 1 marked 31 May. A limit has been set for its catch 5 pcs. daily, including other trout and grayling.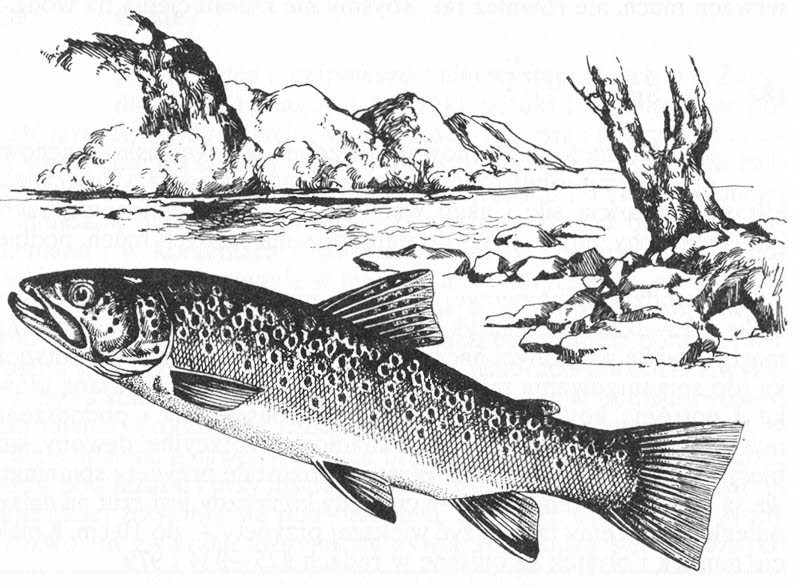 BROWN TROUT (POTOKOWIEC)
Where?
It is one of the most common fish. It inhabits trout waters, i.e.. the river, streams and streams in the mountains, piedmont and highlands, with clean and well-oxygenated water, flowing cold and fast on hard, rocky or gravel bottom. It requires varied banks and a bottom shaded by the shore vegetation, abundant in hiding places under the banks, stones and in the roots of coastal trees and shrubs. In lowland streams, it occurs in places, in which the watercourse is fed by artesian springs. It feels good in dam reservoirs of mountain type (trout) and in the watercourses below them. It can also be found in natural mountain lakes. Usually he is always in the same position, always near his refuge. Single individuals can be found much lower, in the land of grayling, and even in the land of barbel, in watercourses with strong water current, under weirs and at the mouth of trout streams. In spring, trout usually stay under the banks, and with water warming and animal development, they feed on, spread to various places in the stream along its entire surface, to bring them to hiding places at a given time.
When?
He takes from April to the end of August, and therefore for the entire period, when fishing is allowed. In April, May and June all day long, in July and August in the morning and in the evening. Factors conducive to successful fishing are: cloudy weather or variable cloudiness and stuffiness, light wind and warm drizzle or rain. Sunny days are unfavorable, hot and cloudless, morning and evening fog with heavy dew or pre-storm periods. Trouts are capricious and show different interest in food (its various components) and lures given to them by anglers. We must take this into account and be prepared to frequently try different types of flies and lures used in spinning.. Who has mastered both techniques of trout fishing, he feels the least of summer 'grimaces" these fish. During the day, we have to choose our fishing spot, so that the sun does not blind us and does not hinder the observation of flies, but also yes, lest we cast a shadow on the water.
Equipment.
For the fly fishing method, you need a fly rod and a double-ended rope, corresponding to the strength and thickness of the force and action of the rod, fly leaders, dry and wet flies, nymphs, pastes for greasing dry flies, podbierak.
In the spinning method, we must have a spinning rod, line 0.25-0.30 mm, Perfect hook No. 1-2/0 (for spinning with a dead fish on one hook), system with a three-arm hook (for spinning with a dead fish on the system), a lead head with a triple hook (no 9 — 11) for lowering and lifting a dead fish, smaller spoons and spinners, dewony, wobblers and streamers and rapals. The spinners and other spinning lures are smaller, 3-6 cm long. When a long distance throw is required, we can also use a larger bait - for 10 cm.
Fishing methods.
We catch the brown trout using the fly method with wet and dry flies, nymphs, "With a whisk", for a dry fly by the shore, on a wet fly or nymph flow - with a float. You can also spin a dead fish or fillet with a single hook, a dead fish on a system with one three-arm hook, dead fish or fillet using a lead head (hat), and additionally raise and lower the bait, spinning with a spinner or other pulled artificial bait, spinningować streamerami.
Other comments.
Trout is a very skittish and careful fish, and at the same time very predatory; therefore, one should remain calm in the trout waters and try to remain unnoticed by the fish. You can't actually predict, whether the trout will take. Sometimes they catch flies, sometimes for spinning lures, both methods of fishing are still effective at other times. There are days that are completely "empty."" - no bites. Who wants to fish in all conditions, it must be so prepared and equipped, so that he can use any method of fishing permitted by law during the day, currently best suited to the mood and appetite of the trout.
In the lakes of Polish Pomerania (especially in Lake Wdzydze) and in some alpine lakes the lake trout lives - a form very close to the brown trout. Sea trout lives in the Baltic Sea, which enters the rivers to spawn; in the 1930s it continued to Dunajec, Poprad, Jaworzyńska Bielka. It is much larger than our brown trout. In some dam reservoirs, to which flow trout streams, the trout found very good conditions for themselves. In these reservoirs, they reach a similar size as the lake trout.
In Poland, the brown trout is a highly valued and consistently protected fish: the protective dimension is 30 cm, the grace period lasts from 1 September to the end of January. The catch limit is 5 pcs, including other species of trout and grayling.