Problematic records in Gelbe Riff.
Hanstholm – season 1995 at the Gelbe Riff fishery off the northern coast of Jutland began with two notable events. Two new Danish records have been set for pollack and ling. However, there was a problem… The Danes now have a tough nut to crack. Z informacji otrzymanych z biura turystycznego w Hanstholm wynika, that only fish caught by Danish anglers can be recognized as a Danish record. However, this does not change the form of things, that both the pollack by weight 8,6 kg caught by Gerd Luttike from Hamburg and a ling weighing 23,1 kg caught by Wolfgang Polemz from Gluckstadt are the largest representatives of their species, jakie do tej pory złowiono w Danii. For comparison, the official Danish record in pollack is "only" 8,4 kg, while in ling 21,4 kg. The latter record was unofficially broken last year by an Australian, who caught a ling weighing in Danish waters 24.5 kg. This year's ling was caught 10 May from the deck of ms "Thailana", while the pollack was caught 1 May from m / s "Trille".
The two boats left for the Gelbe Riff from the port of Hanstholm. More information: Hanstholm Tourist Office, Bytorvet 2. DK – 7730 Hanstholm, tel. 00 45-97 96 12 19.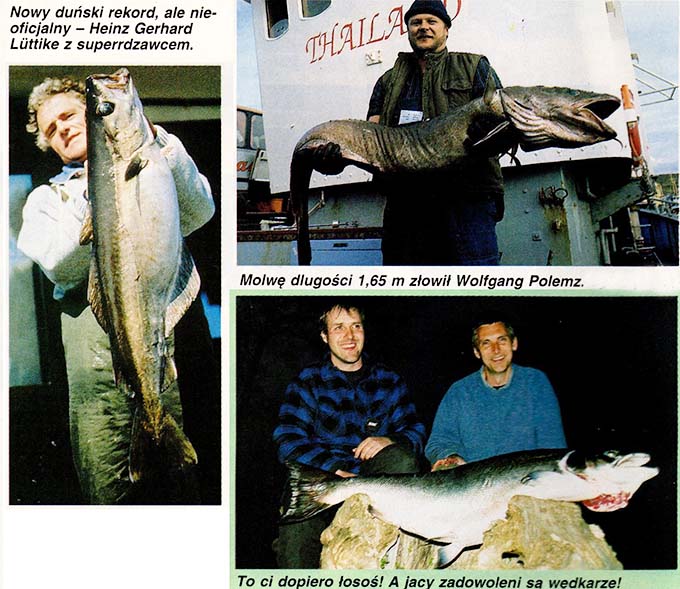 W 1992 r. stocking, w 1995 new record.
Bornholm – in Denmark, a new record for salmon was set. Number one salmon he had 1,11 m in length and weight 17,45 kg. It was caught trolling off the coast of Bornholm on a Northern King spoon.
Here is a short account of the lucky hunter Swen Sparholc. On May 4th, we were fishing approx 3 nautical miles from Bornholm. The weather was very nice, the sea took place at this point 28-30 m deep. Suddenly the line 0,36 mm started to run away from the reel in no time. The fish took a spinner pulled under the surface. It was at this point that the mighty tail fin of a raging salmon appeared above the water for the first time.
After a long and exciting haul, the fish finally found its way to the boat. Great joy after taking it out of the landing net and weighing it – new danish record! And now the most interesting: on the basis of examination of the scales it was found, that this salmon comes from restocking (young individuals) carried out in 1992 probably in the Swedish river Morrum, from which he flowed into the sea. In three years, this salmon has grown by more than 17 kg!
A blue shark for a birthday party
Algarve – 70-year old Finn Keijo Akkanen from Helsinki received a wonderful birthday present. His son gave him a fishing trip along the coast of the Portuguese Algarve. Senior Akkanen caught the fish of his life there. It was a blue shark with a length 3,07 m and mass 217,5 kg. The haul of the fish lasted over two hours.
"Diamonds" for anglers
Austria – in Austria, the best anglers will be awarded with diamond pins. The hotel chain "Fischwasser Ósterreich" started in the year 1995 fishing competition. Each guest fishing in waters belonging to a group of hotels may, after weighing the fish he has caught, fill in the appropriate form and submit it to the competition.. All species of fish can be submitted, from trout to carp. At the end of the year, a specially appointed commission will select record holders and present "diamonds" for catching the largest predatory fish, quiet feeding and the best fly angler.
Hot flounders
Stockholm – northern fish species can easily live in water at minus temperatures. For example, Arctic flounders are survival masters. A special gene is responsible for natural protection against low temperatures. Swedish scientists isolated this gene and inserted it into the genetic code of local aspen. They hope, that will make these trees more resistant to prolonged periods of frost.