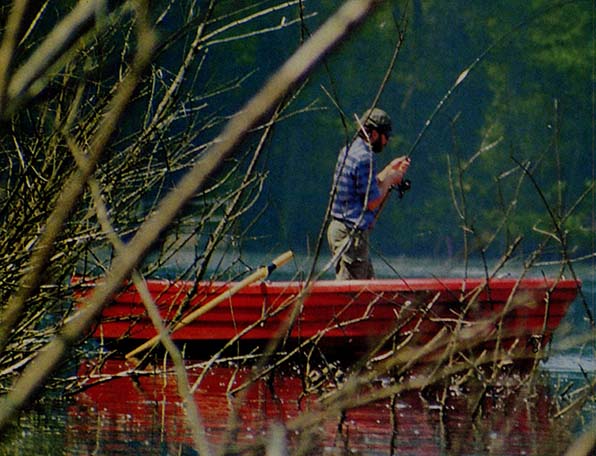 Fishing sport, inseparable from fishing with a fishing rod, they are passionately cultivated by tens of thousands of people of all ages. Anglers ranks, which counted in 1974 r. more than 180 thousand. people, every year they systematically increase by further ones 5 thousand. people. Every year these people catch from the rivers, dam reservoirs and gravel-sand workings over 2,6 million kg of fish, which constitute over 20% overall commercial fish production, mainly from pond farming.
Fishing is also of great cultural and social importance, and concern for its further development is in the interest of the entire society. Sports fishing is not an end in itself, it is also not the sole concern of the anglers themselves. There is a fixed law and strict discipline in this sport, upholding social interests. Compliance with the fishing law, which also covers all issues related to fishing with a fishing rod, it requires not only special equipment with expensive equipment, but also having the right knowledge, qualifications and experience. So it is not indifferent, what is the equipment of a large army of anglers and what is the expenditure on them. The level of fishing technique is also not indifferent, related activities and the behavior of anglers by the water. Most often, as shown by direct observation, unfortunately this level is not so, what we would like and what it could be.
The fishing movement operates under very complicated conditions; it should be realized, that the condition of the natural environment of fish has deteriorated significantly in recent years, the number of anglers has increased many times, The efficiency of fishing equipment increased and the calmness on the shores disappeared, even on weekdays. Many new ones were also created, deep dam reservoirs, representing a completely new class of inland waters; Today, therefore, the technique inherited from our fathers and grandfathers is no longer sufficient for fishing with a rod.
In this situation, the issue of developing the best ways to transfer knowledge and fishing experience arises. So far, there are no traditions or organizational rules for training both novice anglers, and to some extent advanced in terms of theoretical knowledge and practice. The lack of fishing literature is particularly noticeable, this applies to both the number of titles, as well as the size of the expenditures. The number of these publications is by no means in proportion to the number of anglers and their needs related to the need to improve their own qualifications. Most anglers get the necessary knowledge and experience only from their own observations, inventiveness, practice and arduous exercises. It goes slowly without a good counselor and teacher, some issues cannot be comprehended as a whole, also often basic mistakes are not avoided, which cause the formation of bad habits. Therefore, anglers constantly need professional help and advice.
This is where the main sense and purpose of this publication lies. I included information from various fishing textbooks and my own experiences, proven during many years of practicing fishing. I hope, that reader, who will read the content of this page and remember the most important news, will obtain the necessary data to increase the effectiveness of its fishing trips.
This website has no ambition to familiarize the reader with all issues related to water and fish and the knowledge of various fishing methods.. For, in such an approach, the essentials would get confused with the secondary, and the page would not fulfill its purpose.
Fishing is an extremely varied field, diverse and dynamic, depending on local conditions and many different factors, is a sport that covers many disciplines and specialties. Therefore, you can expect, that a large proportion of Readers will not agree with everything, what I wrote here, because it will be based on its own experiences and methods, perhaps significantly different from mine, and these are what he will recommend to other anglers. This possibility should always be taken into account in fishing. It can be considered almost an iron rule, that five anglers are twenty different views and a hundred recipes for catching a big fish. I will be very pleased, if from time to time these anglers try out the different fishing methods described here, whatever your own, even the best.
If every angler appreciates and knows how to make the best use of his equipment and if he mastered more than a few basic ones, traditional methods of catching fish, it would then not only save a lot on the supply of fishing tackle and spare parts, but also to shape ethics and interpersonal relations among anglers. It would also promote better fishing results, and this, in turn, would contribute to improving the angling mood.