SIEJA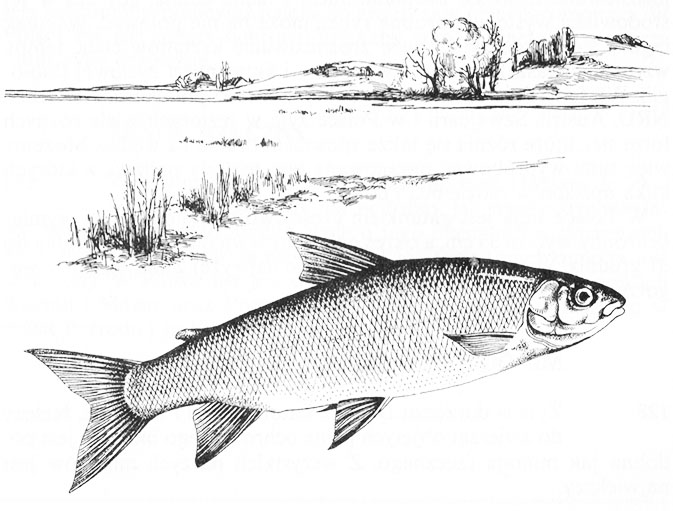 Where?
It is a lake fish, kept in our pond farms. It comes from the northern German lakes. Thanks to stocking, the range of its occurrence has covered some of our dam reservoirs (Jesenice), in which it is the object of sport fishing. As a result of numerous escapes from the ponds, the whitefish got into the running waters. Fishing for whitefish, especially in dam reservoirs, they become more intense every year. The whitefish are typical deep-sea fish, so we look for them above the deeps at the bottom, on warm and rainy days at medium depths or in shallower places, and even near the surface, where insects swim.
Also in Poland, the number of lakes, in which whitefish occurs, increases due to the mastery of the production technology of older stocking material. It is indigenous to only a few lakes, the most common whitefish, less common bream.
When?
Throughout the year, except in hot periods.
Equipment.
Medium heavy, sensitive rod, well-balanced float, line 0.15-0.20 mm thick, hooks 9-12, bow ties 12-14; can be fished with two side leaders. Spoons for vertical spinning, miniature, slender pilkers 4-6 cm long, length mini-blisters 15 mm with flap and hook nr 8, paternoster for lowering and pulling the bait .
Fishing methods.
For a flow with a well-balanced float and the bait lowered 10-20 cm above the bottom. Tam, where is safe, hard bottom, you can put bait on it like for a bream. The following methods are used: on an artificial fly, marmalade, spinningowanie miniaturowymi błystkami, raising and lowering the bait.
Lures.
Ochotka, slurries, white worms", flower larvae, pasta (elbows), looking for muchy, wet flies-nymphs, small marmosets or minipilkers with the addition of a suitable live bait, miniature pearl spinners. In autumn and winter, the smallest fish are caught, hooked by both lips and placed on the surface of the reservoir.
Other comments.
This fish is not yet common, so it is difficult to specialize in its catch. It usually draws the angler's attention when catching other fish or when it comes directly to the water's surface. She is very shy. It gains mass 1 — 1,5 kg. It has very tasty meat, like all salmonids. It feeds on zooplankton and benthic fauna, when there are small fish in its environment, he can hunt for them. As a result, whitefish has a large variety of body shapes, growth rate, especially, however, habits and life activity (biology). In fact, no good methods of catching whitefish have been developed. W RFN, NRD, Austria, Many different forms of whitefish live in lakes in Switzerland and Poland, which also differ in the way of fishing. So we can try out the methods of fishing developed there.
In Poland, whitefish is a partially protected species; its protective dimension is 35 cm, and the grace period is from 15 October to 31 of December. You can catch the most in a day 2 pcs, including eel.