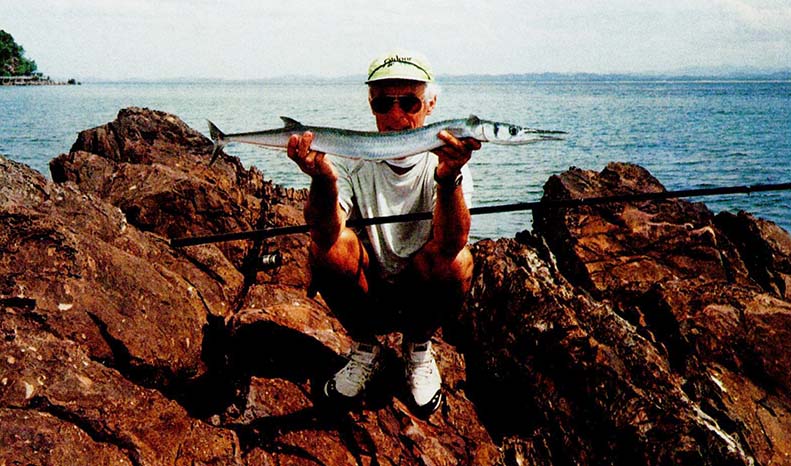 Whether, where is he going, Nico always takes his favorite telescopic fishing rod with him. Thanks to her, he experienced unforgettable fishing adventures, he also caught many wonderful fish.
The sand and rocks glisten like silver, the sea shines with pristine azure. I wander the beach like in a dream. A scared iguana escapes to the primeval forest, There's an eagle hovering high above me. This is the eagle here – says Fred, owner of a holiday home on the island of Kapa.
I am located in the southern hemisphere, or more precisely, the Sea of ​​China off the eastern coast of Malaysia. My wife and I have just finished a ten-day business trip and decided to rest here for four days, before we fly back home.
Faithful accompaniment
Before we left, our suitcases were packed to the brim, and the course of the journey is precisely planned – There was no question of taking fishing equipment. For my old telescopic rod, however, there was some space in the suitcase. As usual. This stick has been faithfully accompanying me in all my journeys for many years. No matter where I am going or flying, I never part with this rod. How many times have I unexpectedly managed to find some time for fishing, the new fishery turned out to be as beautiful as a picture, and the fish hunted greedily at the bait given to them. During my trip around Malaysia, my telescope also did a great job. The crystal clear sea water glistens, however, thanks to the polarizing glasses, I can see exactly what is happening even at a few meters deep. I notice some fish swimming over the corals.
In a moment my rod will be in action.
I bought it many years ago. Ma 4,20 meter long and an old-fashioned handle for attaching a small reel. I mostly fish with a line 0,16 mm, however, I always take a spare spool with a slightly thicker line with me.
Smuggling
During the assembly of the float set, I gather memories. How many times have I had to smuggle my fishing rod in my luggage, because I promised my spouse before, that I will not fish during my joint vacation. However, it turned out to be there, that when faced with a fait accompli, a wife never minded a few accusations.
In the ports of southern Europe I have already caught sea bream with my fishing rod, bullheads and garfish. I also picked the skin of the Iberian barbel a few times, Danish trout, careful chubs from Lake Garda and the Spanish largemouth bass.
With my penknife, I pick a few snails off the rocks and put them in a white worm box. After that, I thoroughly lubricate my body with sunscreen, I put the cap on with the visor to the back to cover my neck and I walk into the water in my sneakers. I have one take after another, but the jam only then works, when I put very small pieces of a snail on the hook. The hook is actually a bit too big. Beautifully colored small coral fish flutter on the line every now and then. Unfortunately, they are not suitable, to cut fillets from them. Fortunately, I'm catching a little sea bream soon. I'm taking a short break, I sit down next to my wife and drink a whole bottle of mineral water. Even standing waist-deep in the water, the heat is unbearable. I cut small fillets and longitudinal strips of meat from the sea bream. I change the hook no 6 for hook no 4.
I set the ground to a depth of about two meters. – Now they will take big fish – I am talking to myself in my mind, although I don't know at all, what does the word big mean in this fishery. I didn't have to wait too long for my dreams to come true. I catch a few fish approx 25 cm. They are colorful and incredibly brave. I have no idea what their names are, and the camera was left on the shore. In the meantime, fans appear. Two Malaysians became curious, what does a European standing in the water do, and with such a thin rod in his hand. The local eagle is also watching me. The bird is sitting a few meters behind me on a tree branch and is watching me closely. I can't get over it, that the eagle sat so close to me. Observing the movements of the predator's body, I get an impression, that the bird is just waiting, that I may catch some fish for him. He is very intrigued by my person.
Malaysians are happy with every fish, because I give them everything, what I manage to catch. The eagle also received its ration and quickly devoured the fish thrown to it,
Reel smoke
What happened next, it is difficult to describe in words. I cast the bait and the float hasn't managed to line up yet, when my faithful telescope bends to the hilt.
One hundred meters of fishing line 0,16 mm disappears from the spool instantly, and smoke is almost blowing from the braking mechanism of the screeching reel.
I show my fans with gestures, that I can't keep this fish and my line will break soon. You can see a bare spool between the last turns of the line. I press down on the edge of the spool with my index finger, the rod bends even more, and the line stretches and stretches, slashing air and water.
Fortunately, the fish changes its direction and is now swimming along the shore. I jump on bare rocks like a ballet dancer and keep chasing my opponent. At the other end of the line, I also deal with a ballerina, because suddenly there is a whole series of impressive jumps over the water and the fish shows up in all its glory. It is a giant garfish.
To, that I was able to successfully land this fish, I only explain with forty years of fishing practice and great luck. The hall and balancing on the rocks lasted approx 20 minutes.
The speed of the escape and the circus acrobatics in the air were impressive! The fish has 96 cm in length and this is my absolute record. I see such a large garfish for the first time in my life.
And I owe it all – rightly, my telescopic rod. Thanks to that, that I always take her with me, I can go fishing whenever possible. So maybe it's worth considering before the planned trip, is there something missing in your hand luggage…