CRUCIAN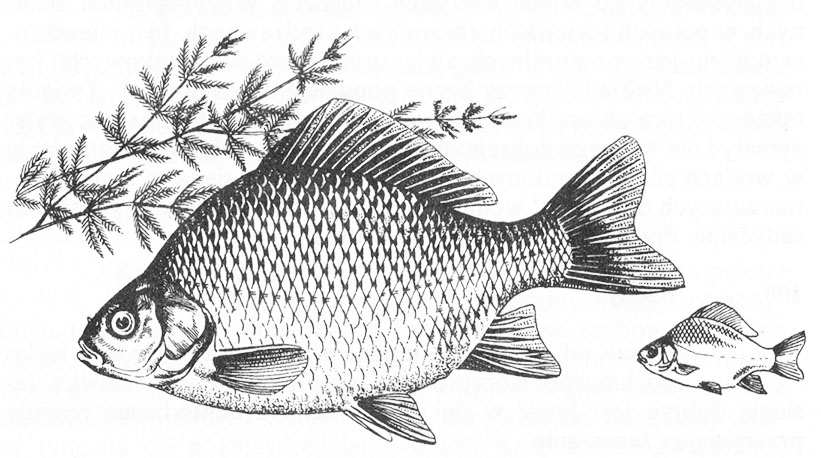 Where to look for crucian carp?
Occurs in stagnant waters, highly overheated, with a soft bottom and a large amount of soft and hard vegetation. We will meet him in oxbow lakes and rags, in excavations, in field and country reservoirs and ponds. He is an inhabitant of many natural lakes, especially rope-pike and crucian carpets. Sometimes it creates numerous populations in small ponds. It also inhabits some lowland type dam reservoirs. It is very durable and does not require good water oxygenation. Therefore, it withstands very silty waters, overheating, and freezing to the bottom in winter. It usually occurs sporadically in running waters. He is most often at the bottom.
When to catch crucian carp?
Takes from spring to fall, in summer, there are warm and slightly cloudy days. Windless days with a drizzle are favorable. In autumn it is good to fish on sunny days. It reacts to cooling by stopping feeding.
Equipment for crucian carp.
The equipment used to catch most species of the so-called. white fish. A well-balanced float on 0.15-0.20 mm line, hooks No. 8-10.
Methods of catching crucian carp.
In shallow and muddy waters to cross-country: we set the depth like this, so that the bait floats only a few centimeters above the bottom, it did not sink into silt. In heavily overgrown waters, prepare a fishery by tearing plants out of a specific surface of the bottom, so that there is a window on the surface of the water.
Crucian lures.
"Worms,"Preferably red, dung earthworms, dough balls.
Other comments.
The crucian is also picky, but takes confidence. Through the bait - it cannot be pulled from further distances to the fishery. Groundbait should be done in such places, where it will not collapse in
mule. This fish is very lively, therefore it can be used both as a live bait, and dead for spinning. It has very tasty meat. Crucian fishing is very attractive, however, they require attention and patience. In the waters, where this fish is not abundant, grows up to large sizes. In Poland, it is not protected and its catches are not limited either.
KARAŚ SILVER (JAPANESE)
It is massively found in the Danube and its tributaries in Slovakia and Moravia and in the oxbow lakes located there. It comes from East Asia and Siberia. Its presence in Czechoslovakia was first recorded in the Danube, in year 1962. There are two forms of this species: representatives of the first reach a mass to 1 kg, the other is much smaller, because they only grow up to 15-20 cm. The caras of both of these forms do not differ in shape. This fish breeds quickly, therefore it becomes a troublesome weed in our waters. The silver crucian carp is easy to recognize by opening its abdominal cavity, for the lining is black. Our native crucian has this clear membrane.