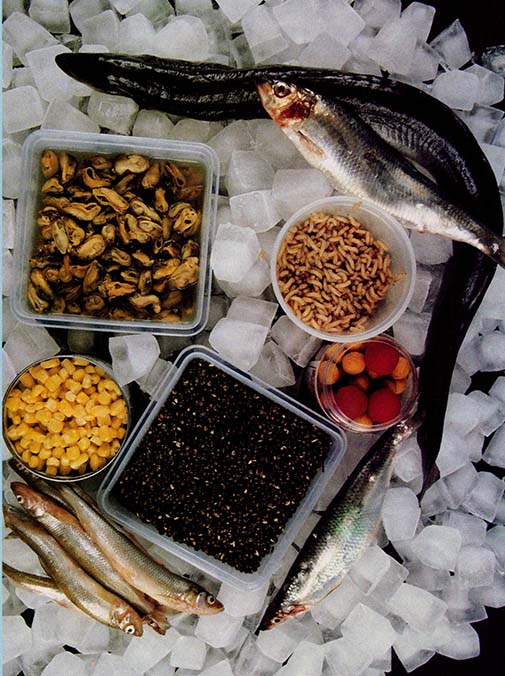 An angler who stores lures in a freezer does not have to worry about summer heat. After thawing, all baits are fresh, appetizing and gamey.
Can hot weather make fishing difficult?? Yes, yes. The heat pouring from the sky does not bother the anglers themselves, on the other hand, it is very harmful to natural baits and groundbaits. Both corn, clams, or even ordinary wet groundbait, after two hot days they lose their flavor and freshness. Can this be prevented? I can hear it already, as you say: – Keep the baits and baits for non-feeding fish in the refrigerator. However, even in a refrigerator, you cannot keep the baits indefinitely and after a few or several days they will no longer be usable.. There is only one place, wherein (in high summer) groundbait remnants and unused bait are safely stored. I'm thinking about the freezer. Throwing the bait (groundbait) after fishing, just because, that we are not planning a fishing trip the next day, it is a waste. Better to freeze her for a while. Is the bait (groundbait) does not lose flavor when freezing? Will it not be too soft afterwards? of course not! We just need to pay attention to some details (depending on this. what bait we are going to freeze). Let me discuss ways to freeze some of the most important lures (groundbait).
Maize
Let's start with the corn, one of the most effective lures for carp and other quiet feeding fish. Freezing canned corn is the easiest. In the freezer, we keep it in a plastic container or a foil bag. We also freeze the juice! Later, we use it to soak the groundbait. Extra juice is released from the defrosting corn. The corn thaws very quickly. Simply pour lukewarm water over the container or bag with the bait. If we really care about time, we can divide the frozen corn into small lumps in advance. Thaw - not then literally in a few minutes. After defrosting, the corn is softer than the one taken straight from the can. Long distance fishing, better to use it only for baiting (fresh canned corn stays better on the hook when throwing vigorously). When we focus on fishing close to the shore (ropes, carps) – we lure and put only thawed corn on the hook. It has many advantages. Because even in the era of hard protein balls, quiet feeding fish have a particular liking for soft baits. Soft corn kernels on the hook also make it easier to hook the carefully taking fish.
White worms
Some of you will probably think – Yeah, freezing vegetable baits is certainly a solution. What about white worms? After all, in summer they pupate at a rapid pace. A few days after the purchase, there are only casers left in the box, of which flies will soon hatch. Is not so bad, as it might seem. We can also freeze white worms. We must first sift them through a strainer, to separate the sawdust. Before freezing, pour white worms into a tight plastic bag and carefully "push" the air out of it. However, let's not freeze too many worms in one bag, better keep them in several portions. We must pay attention to this, that hermetic bags are tightly closed. Otherwise it can happen, that we can find a white worm, for example, in a frozen pizza kept next to it. Thawed white worms have a certain disadvantage, namely, they lose their natural color very quickly. For this reason too, I advise you to defrost them just before fishing. Mix the animal "ice" bait with the groundbait, while for feeding and fishing we only use live white worms. Experienced hunters of quiet feeding fish will gladly lure them with thawed white worms, by adding them to the groundbait balls you throw into the water before you start fishing. Dead white worms do not "diverge" along the bottom, they also do not disintegrate the groundbait balls. The groundbait stays in one place for longer. Chrysalis of white worms (castery) we can freeze in exactly the same way.
Ochotka
The larvae of bloodworms are also a classic summer lure for low-feeding fish. I will add, that this lure is effective all year round. In summer, bloodworms can be easily obtained by oneself, while in winter you have to pay dearly for them. So why not prepare a sufficient supply of bloodworms in the summer, so that they have enough fishing and baiting all year round? Frost bloodworm larvae in small portions (po 250 g). One such portion is enough to catch many nice fish in winter. Freeze the birdwatches in a plastic container, preferably alone or with the addition of a small amount of flour. It takes some time to defrost bloodworms. The bait should therefore be taken out of the freezer in the evening before the planned day of fishing. Wrap the thawed bloodworms in a newspaper and sprinkle with a little powdered clay, so that they separate better from each other. Offer: after mixing a portion of live bloodworms with the same portion of thawed bloodworms, we will get a sensational combination of winter groundbait.