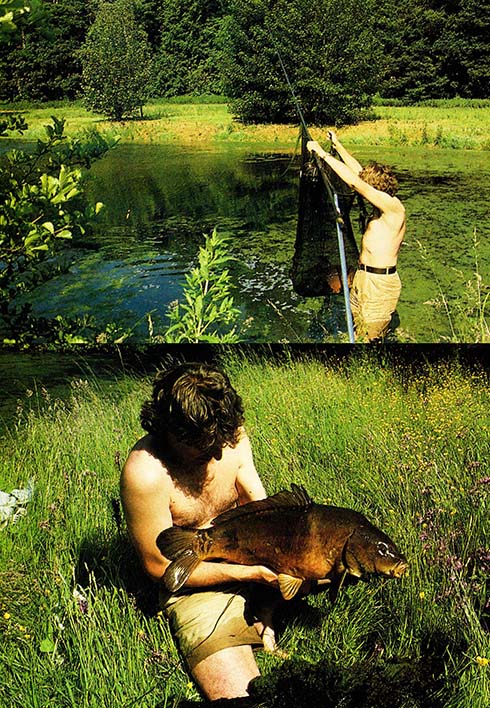 A fishing trip does not always have to be a two-day escapade. With a bit of luck, you can catch a large carp even during the lunch break…
Company, where i work, is located near my favorite fishery. So in the summer I often take my lunch break and take short trips to the water. Mainly for this, to breathe fresh air, eat sandwiches and dream about the upcoming end of the week… Sometimes I even mount a fishing rod for a few minutes. As recently. The day was extremely hot and I just wanted to sit in the shade by the water for a bit. But could I have expected, that upon arrival, I will immediately notice a large carp under the surface?
From that moment on, I start measuring time. So quickly to the car, equipment from the trunk and with shaky hands assemble the fishing rod. I always carry a carp rod and some canned lures with me. I lure with a handful of beans and throw a float set nearby with one grain on the hook. The bait lies at the bottom. I notice a second carp. I realize, that in high summer, carp only forage in the evening and at night. But I'm lucky – not enough, that these fish are feeding at high noon, it's still near my bait! I forget about the office. I crouch next to a bush growing on the shore, I try to be completely invisible, I try not to even breathe. It is unimaginably hot. I take my shirt off carefully, beads of sweat trickle down my forehead and into my eyes. The right hand rests on the butt of the rod, the left one moves nervously over the landing net handle.
Suddenly the river explodes. Float, who stood quietly on the border of weed, disappears under water in a split second. The fish jams by itself and starts going crazy on the rod. I'm trying to prevent her from escaping into the weed. Fortunately, that I have quite powerful equipment. After an exciting haul beneath the surface of the water, a tired looking mirror ends up in the landing net. The carp is very fat. I rate it on 8-9 kg (Unfortunately, I do not have weight). I look at my watch – o rety, how late it is. I look like this, as if I fell into the river. I will not forget this lunch break so soon.